Athens Farmers Market Helps Combat Local Food Desert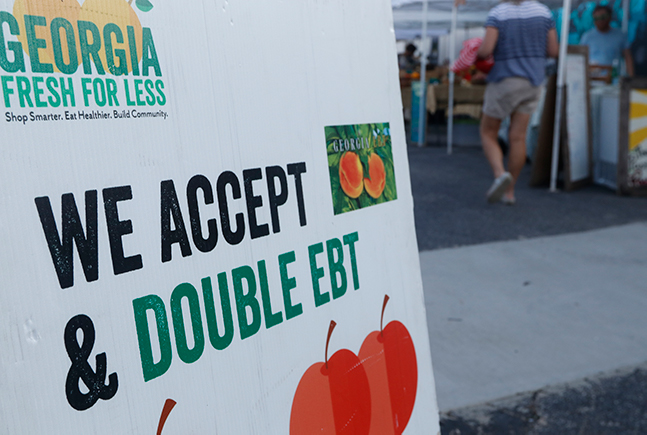 ATHENS, GA- Combatting the food desert in Athens has become a goal of the Athens Farmers Market, which has led to the establishment of two major programs to help curb the issue.
The first program, Double SNAP, is an extension of the state's Supplemental Nutrition Assistance Program program which provides monthly supplements for qualifying members who purchase nutritious food. At the farmers market, the SNAP dollars are doubled, meaning that participants will receive double what they have spent on food in market tokens. The second program, the Fruit and Vegetable Prescription Program (FVRx) allows individuals with diet-related illnesses to receive prescriptions for fruits and vegetables, redeemable at the farmers market.
"The market is really intentional in its efforts to connect with all members of the community, to make sure that wholesome food is available to everyone regardless of socioeconomic status," said Kevin Kirsche, director of the Office of Sustainability at the University of Georgia.
Click the link below to hear more about why the Athens Farmers Market appeals to not only locals, but also to students.
Access to wholesome food: a right, not a privilege
The U.S. Department of Agriculture defines a food desert as "a substantial share of residents who live in low-income areas that have low levels of access to a grocery store or healthy affordable food retail outlet."
According to the Georgia Public Health Association, Georgia has 2 million residents living in food deserts. In Athens, 21.6 percent of the population faces food insecurity, which roughly translates to 26,340 people without access to healthy institutions like grocery stores or food pantries.
"One of the groups that we work with, Pinewood Estates, they're right off of 129 north of the Super Kroger and most of them are low-income. There's no bus line out there, the closest thing within walking distance is just a convenience store, and there's no bike paths or anything for people to walk or ride their bike on to get to a Kroger or Ingles down the road. There's still food deserts," said Nick Slagel, a doctoral candidate studying foods and nutrition in the College of Family and Consumer Sciences at UGA.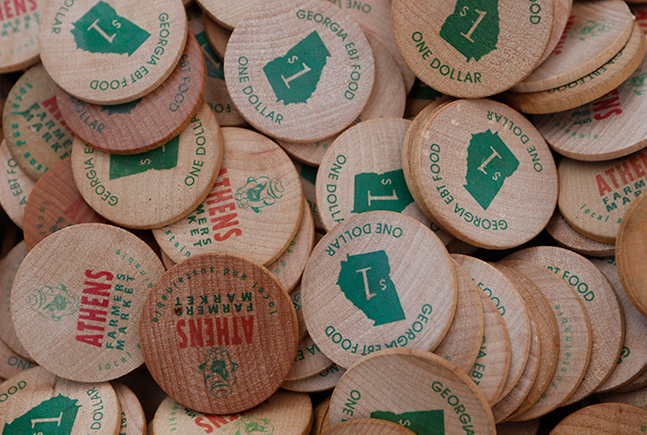 What else is Athens doing?
FVRx is just one example of a program that allows local organizations to partner with larger, state and nationwide organizations, such as Wholesome Wave Georgia, to make an impact within the community. To date, Wholesome Wave Georgia has provided $66,458 in food incentives to areas impacted by food deserts all over the state.
There are other initiatives based out of Athens, including Market on the Move and the West Broad Farmers Market, both focused on going into underserved communities to provide healthy food options and supported through a partnership with the Athens Land Trust. Market on the Move, a program started by a UGA student, is a mobile produce market established to provide easier access to healthy and sustainable food for low income populations who have limited access to grocery stores.
Watch the video below to learn more about what access to food means to Al Marshall, an Athens-Clarke County resident that relies on fresh produce for his health.
Better Health for a Better Future
The benefits of having access to farmers markets are many, including the impact this resource has upon the healthcare system. Because most farmers markets accept food stamps, people are able to eat healthier, which in turn increases their overall health and lowers obesity rates.
According to TriplePundit, access to a farmers market creates less of a toll on the health care system because of decreased medical bills from families that might not be able to afford health insurance. The USDA reported that between the years of 2012 to 2017, the number of SNAP households shopping at farmers markets increased by 35.2 percent, which means that the number of lower-income families apart of the SNAP program had their overall health increase as well.
Food Deserts Around Athens Explained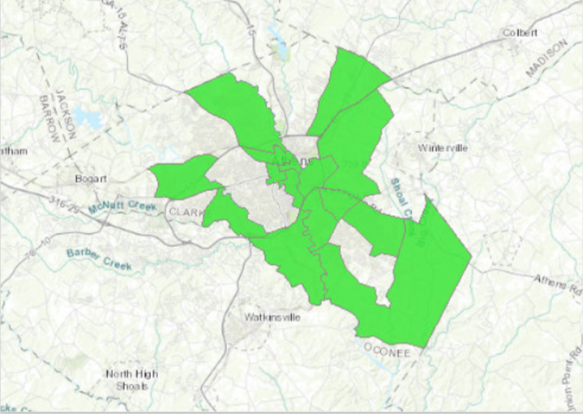 The food desert in Athens is a widespread issue, as can be seen in the map above. The green areas of the map show the parts of Athens-Clarke County with low income and low access to food. The map shows the breadth of this issue – many parts of Athens are affected by low access to food resources.
Food insecurity is a serious issue that many residents in Athens face, and it is a problem that has a solution. Initiatives like FVRx, the Double SNAP Program at the Athens Farmer's Market, and Market on the Move are helping Athens locals to combat the issue in a healthy and sustainable way.
Check out the link below to learn more about what two community groups are doing to help fight food deserts and food insecurity in Athens.