Athens Set to Become Wetter, Hotter, Experts Say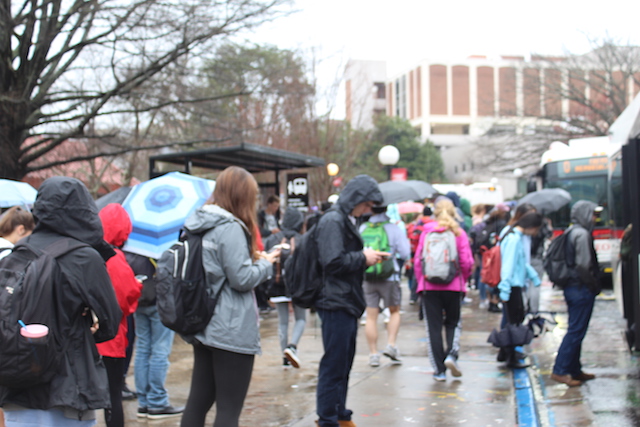 ATHENS, Ga. — Athens climate is becoming more extreme, with hotter and wetter days ahead in response to human-induced climate change, according to researchers.
The National Oceanic and Atmospheric Administration reported that Athens experienced its highest rainfall average in 2018 in the last 20 years. Rain averaged almost 70 inches in 2018 compared to the 46-inch rainfall average from 1981 to 2010. These aren't the only expected weather changes.
"The latest research that we have on what should happen in the southeastern United States, including Athens, is that we will have more hot days," said Dr. John Knox, a geography professor at the University of Georgia. "And we'll probably be both wetter at times—when we're wet we'll probably be wetter—and when we're dry we may have more extended droughts."
Athens 90 degree Fahrenheit summer averages will continue to increase if climate change trends continue. According to a recently published report, the typical summer in the classic city will increase by 2.5 degrees Fahrenheit and become 78 percent wetter by 2080, mimicking its southeast neighbor's temperature.
Factors Contributing to Climate Change
According to NASA Global Climate Change site, greenhouse gases such as carbon dioxide, methane and ozone naturally warm the Earth, more are being released into the planet through the burning of fossil fuels, land clearing and agriculture, which accelerates the rate these gases warm the Earth.
"We see in urbanized areas an effect called the urban heat island effect," said John Perry, energy and water conservation expert. "When you have lots of what you would call thermally massive structures like things made of brick and concrete and black asphalt roadways and parking structures, it heats up more during the daytime and in the summer—anytime the sun is out."
Natural areas such as fields and forests reflect heat that comes down from the sun, but buildings in cities absorb this heat, causing humans to need more air conditioning, releasing more greenhouse gas emissions into the environment.
Slowing and Preventing Climate Change
Tyra Byers, the program coordinator for UGA's Office of Sustainability, said that there are hands-on approaches people can take to slow the soon irreversible impacts of global warming. She recommends advocating for policy changes that create a more sustainable society, whether that be in the government or more simply in the workforce.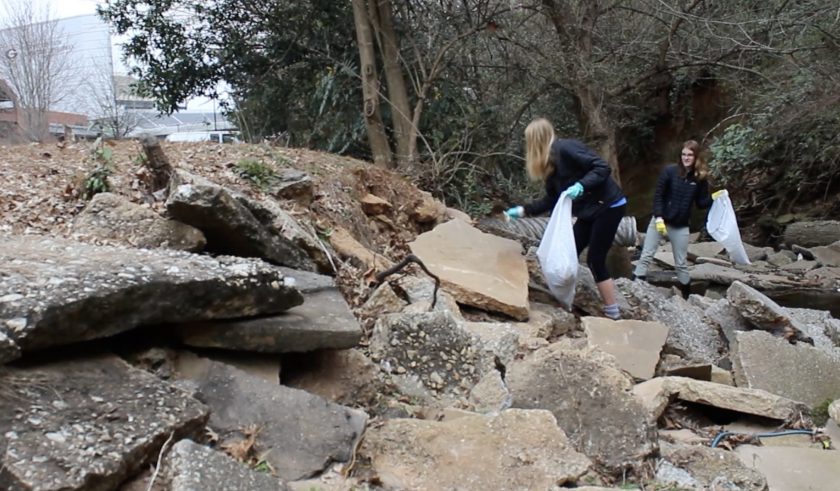 Erin Malsbury and Caroline Shearer, co-presidents of Society for Conservation Biology, clean up Tanyard Creek on Sunday morning, January 17, 2019 in Athens, GA. They said they clean the creek up weekly to better help the environment as it changes (Photo/Wangechi Warui, sww58109@uga.edu)
Click the video below to see students at UGA work toward cleaning up their campus to prevent waste.
Climate Change Impact on Crops
According to the University of Illinois Extension, extreme heat can increase moisture loss in a plant. On the other hand, too much rainfall can result in disease, mold or fungus on plants.
UGA horticulture student, Emma Courson, said she worries about how the fluctuations in weather will impact the success of vegetable crops.
"Climate change will continue to add challenges to sustainable farming practices. I will have to come up with solutions that will help me continue to produce food for growing communities while becoming increasingly conscious that the resources I am working with are becoming even more limited," Courson said.
The Intergovernmental Panel on Climate Change, the intergovernmental body of the United Nations meant to provide a scientific view of climate change, reported that governments around the world have until 2030 to avoid catastrophic climate change on Earth.
Watch the video below to see local organizations talk about their initiative combat climate change during this year's Human Rights Festival.