Athens organizations combat food insecurity with healthier options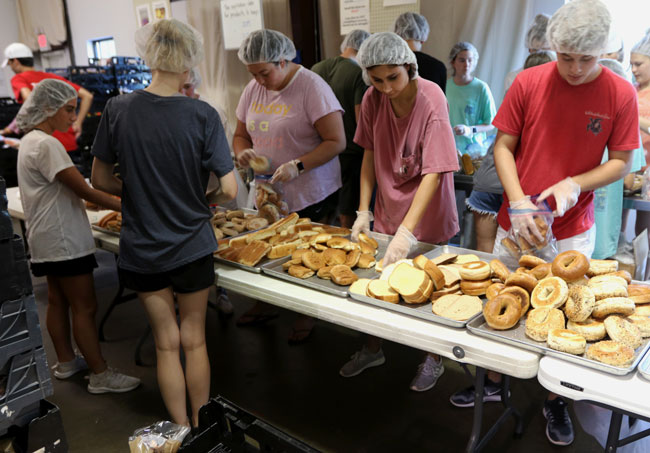 ATHENS-CLARKE COUNTY –– According to the U.S. Census Bureau, 34 percent of Athens-Clarke County residents are living in poverty, resulting in many families lacking access to nutritious and affordable food options.
Living in poverty doesn't imply food insecurity, though, as poverty is measured using an annual income threshold, whereas food insecurity is measured based on reliable access to food. While Athens-Clarke County has a poverty rate of over 30 percent, 22 percent of Athens residents are food insecure, according to 2019 County Health Rankings.
Local food provision organizations such as Food2Kids, Campus Kitchen at UGA and Food Bank of Northeast Georgia are continuously implementing strategies to provide healthier options for residents who are facing food insecurity.
By adjusting their menus, these organizations aim to avoid contributing to obesity by providing perishable alternatives to canned foods.
"Highly processed food is shown to increase the risk for obesity," said Connie Crawley, member of the Food Bank of Northeast Georgia's board of directors. "My goal through the food bank is to not only reduce hunger but to reduce malnutrition which is a totally different thing."
Organizations finding solutions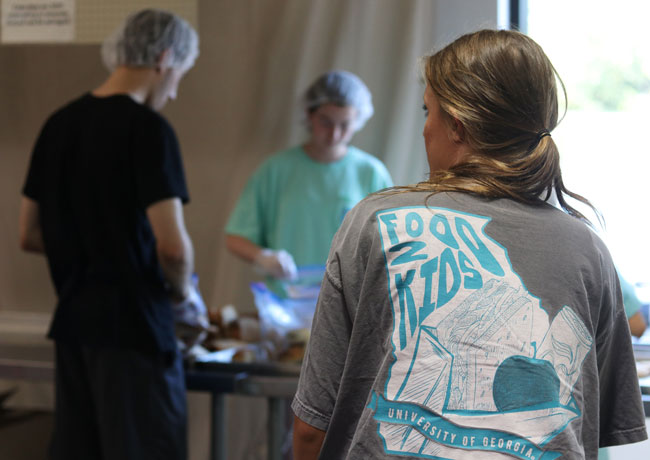 Food2Kids, an organization that works to alleviate weekend hunger, is refocusing their menu and education programs to include healthier alternatives.
"We do an assembly every year so you get to talk to these kids about healthy ways of eating," said Sutton Pope, head of Food2Kids campus outreach.
Click below to listen and learn about Food2Kids, a food provision program in Athens, GA. (Audio story/Mary Calkins, mgc39544@uga.edu)
As a member of AmeriCorps VISTA for the Campus Kitchen at UGA, Suzie Henderson utilizes her full-time position to help expand the reach of the organization. Their mission is food recovery and redistribution in collaboration with UGA and Athens nonprofits, something that Henderson said has taken a focus of healthy options.
While canned goods and nonperishables have been common solutions to food insecurity, Henderson explained that these simple solutions have long-term impacts on health.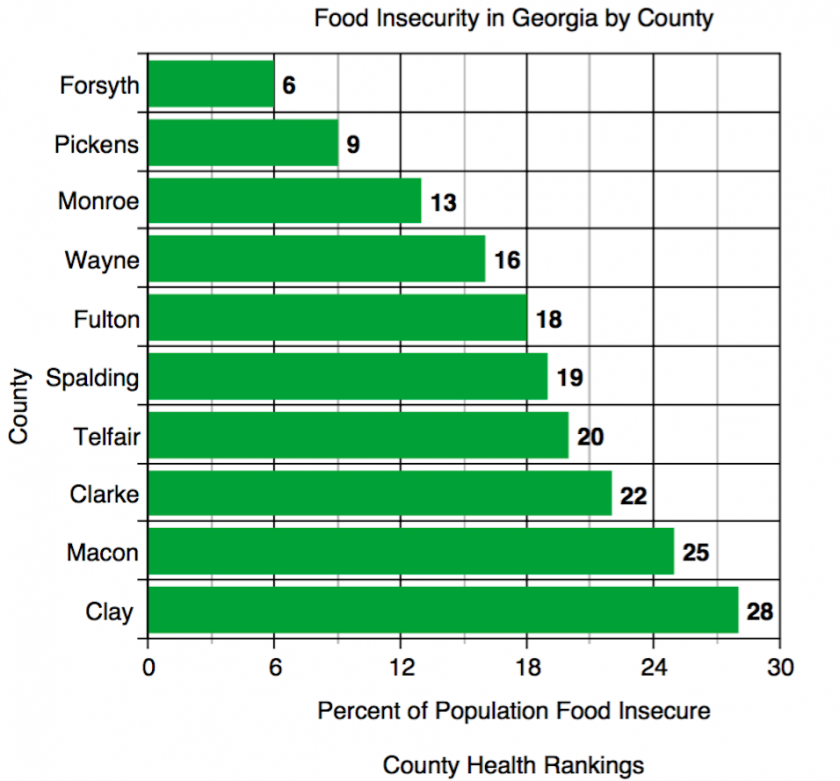 The above chart shows the percentage of food insecure residents in Athens-Clarke County compared to other Georgia counties. Source: countyhealthrankings.org (Graph/Ethan Monteagudo, ethanmonteagudo@gmail.com & Mary Calkins, mgc39544@uga.edu)
"Sometimes people are just not properly nourished because they're not eating healthy food," Henderson said. "We do try to make the meals as healthy as we can."
Similarly, while fresh foods comprise 30 percent of food distributed by the Food Bank of Northeast Georgia, they are strategically planning their menu to include more fresh options.
For these local food provision organizations, partnerships with Trader Joe's, UGarden, Athens Farmers Market, and more for recovery of fresh foods is crucial.
UGA Campus Kitchen alone has recovered over 330,000 pounds of food since 2012, according to their website. This food redistribution process goes into everything from freshly prepared meals, grocery bags of ingredients, and donations to other organizations in need each week.
Click below to hear about UGArden, a partner of Campus Kitchen at UGA, in Athens, GA.
Click below to hear about when a volunteer experienced the direct impact of service. (Audio story/Mary Calkins, mgc39544@uga.edu)