Athens health scores reflect more than food quality
ATHENS, Ga. — Local restaurant health scores don't only reflect food quality and kitchen cleanliness, a fact that restaurant owners and managers alike wish the public knew more about.
According to the Georgia Department of Public Health, health inspection violations fall into two categories: risk factor violations, such as proper cooking temperatures, and good retail practice violations, such as building infrastructure.
"It's really not the score itself. It's the violations. You can have multiple good retail practice violations that can get somebody into a B score, but overall they may not have as many factors that can lead to foodborne illness as somebody that has, say, a 93 with one critical violation," said Keli Hinson, the Clarke County Environmental Health Director.
Hinson said the nature of the violations are what should be considered rather than the overall score itself based on these standards, and restaurant owners and managers agree.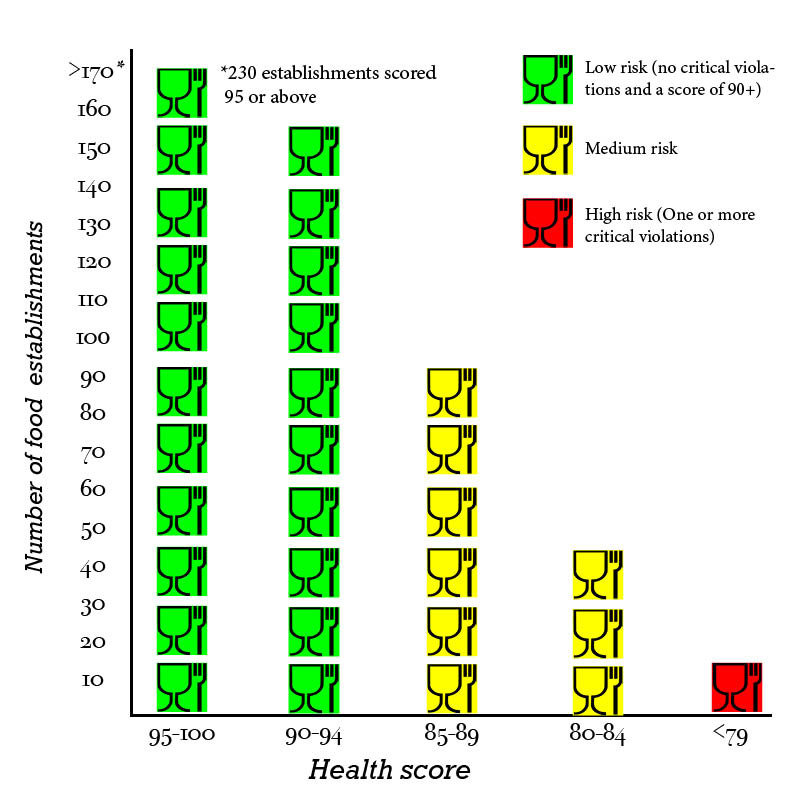 Floors, doors and scores
After celebrating its third anniversary in early February, Mama Jewel's Kitchen, a locally owned Southern food restaurant, prides itself on good health scores, all of which have been an 87 or above.
Kelley Padgitt, managing partner, said that although she and her team try to "keep it all good all the time," points can be deducted before the health inspector ever walks in the door. Mama Jewel's and nearby restaurants share a dumpster, and if the door is left open, a health inspector will deduct points. Padgitt said that even crumbs on the restaurant floor can reduce an overall score.
"I'm here to tell you that you can walk into any restaurant on a busy Friday night, and there's going to be food on the floor," Padgitt said.
Fuzzy's Taco Shop — a downtown Athens restaurant and bar —  received a failing health score of 69 on Oct. 2, 2018. Manager Melvin Way attributed a majority of the point deductions to infrastructure issues.
"We had a leak in the floor, and we brought five different people out, and they could not figure out where it was coming from. We tried everything," Way said. "It's a slow leak, but it was bad. No one knew where the water was coming from. We glued it, we cemented it, everything, and the water still came in, and we still got double points taken off for it."
To address these issues, Fuzzy's Taco Shop hired an outside company to help them prepare for health inspections. Because the restaurant had a score below 70, it was required to do a follow-up inspection, which was eight days later. It received a score of 91.
"That's why sometimes when people look at the health score and go 'Oh, I don't want to eat there,' it's not because they are nasty, its because sometimes there are things wrong in the restaurant, not the food," Way said. "In the kitchen we probably scored a 100, but the little minor things outside the kitchen will get you."
As required by law, each of these establishments have posted their health scores inside or outside the restaurant, easily visible to patrons.