UGA's Price Tag Doesn't Deter Students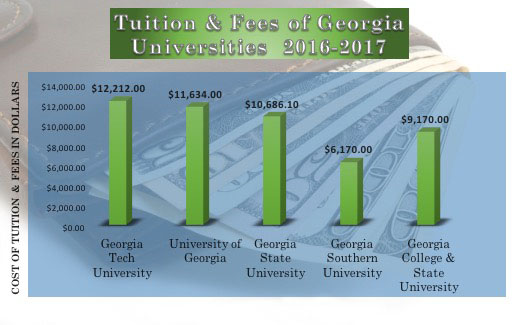 Student's Value of their Experience
Athens, Georgia – University of Georgia (UGA) is one of the most expensive universities in the state, and students say they don't mind paying the high price tag because they consider that benefits like education and opportunities outweigh costs. According to the UGA official admissions webpage, in the 2016-2017 school year, an in-state UGA student (or their parents/guardian) paid a grand total of $11,634 in tuition and fees to be able to attend the state of Georgia flagship university.
UGA transfer student Krishna Khatri spent his first two years of undergraduate education at Georgia College and State University before he transferred to UGA. Khatri said that he valued UGA's Terry College of Business' name recognition and he had confidence that his degree would pay off.
"If I had to put a number on it, I would honestly say it [likelihood of securing a job] would probably be around 85%, I just think that UGA & Terry have had such a great reputation and I have decent grades to find a job after college," Khatri said.
Sara Choi, a Marketing major, who transferred from Georgia Southern University, recognized that attending a large university like UGA would have afforded her more opportunities to network and foster relationships with her peers.
"I kind of feel like I kind of missed out on the whole freshmen experience at UGA. I feel like I would've made a lot more friends, I would've met a lot more people, and just had that whole experience of being a UGA student," Choi said.
Click here to listen to more of Choi's interview.
According to UGA's admissions site, 83% of students graduate in 6 years. Te'asia Snowden, an Accounting major, finds herself on the 5 year track to graduation. Snowden plans to finish up in the spring with an Accounting degree.
"Although I think I will be very successful once I graduate, one thing that they don't really tell you is how much more expensive it is to go here when you don't graduate in four years," Snowden said.
In U.S News & World Report's university rankings for 2017, University of Georgia ranked 18th in Top Public Universities and 56th amongst National Universities. Several UGA programs that were ranked in the top 20th nationally were the Insurance, Management Information Systems, Real Estate, and Accounting programs.
The Accounting Program: The Strengths and Weaknesses
According to an article published on Terry College of Business website, the Public Accounting Report's 2015 ranks UGA's Accounting undergrad and master's programs are in the top 10 undergraduate and master's programs among public research universities. The article also mentions that J.M. Tull School of Accounting's undergraduate program ranked No. 9 and the master's program ranked No. 10 among all programs including public and private research universities. Additionally, the Tull School's Ph.D. program ranked No. 12, up four spots from last year.
Shelly Kalany, a 5th year Accounting  student set to graduate in December 2016, chose her major not solely because of Accounting program's high rankings, but rather based on her interests and the strengths of the program.
"I think Terry's accounting program is really great. We have a lot of top professors for the MAcc (Master of Accountancy) program, we have the number one passing rates, which is really cool. So like basically you take the classes and you're fine," Kalany said.
However, Kalany hopes that in the future the program expands the types of classes offered at the undergraduate level.
"I'm more tax oriented and I like tax [classes] a lot better than audit, and I wish there was one more class on tax, most of the undergrad classes are audit based so you learn a lot of that kind of stuff and I wish I would've had tax each semester," Kalany said.
Kalany also wishes for more variety in the exposure to the type of firms that students are being introduced to.
"So I accepted an offer with an internship in Atlanta [for Spring 2017]. However, I think Terry pushes the Big Four [the 4 biggest public accounting firms] a lot and for me that was very weird, and I didn't want to do that so I didn't know what else I could do. Even though they showed us all these companies and stuff, none of it seemed right at first, because I don't want to do public accounting for the rest of my life, so it took me a while to start recruiting," Kalany said.
The Big Four accounting firms are Deloitte, PricewaterhouseCoopers (PWC), Ernst & Young (E&Y), and Klynveld Peat Marwick Goerdeler (KPMG). Kalany mentions that many of her professor have had careers backgrounds working for the Big Four.
"I know that the teachers really care. That's what's really impressed me a lot. Accounting is a hard profession but it's really rewarding and they really want us to be passionate about it and choose it for the right reason," Kalany said.
With the ongoing building expansion of the Terry College of Business, which will offer more spaces for more classrooms, perhaps future accounting students will see some of the course improvements that Kalany suggested.