Athens Transit Eyes Youth Prosperity with Transit Alternatives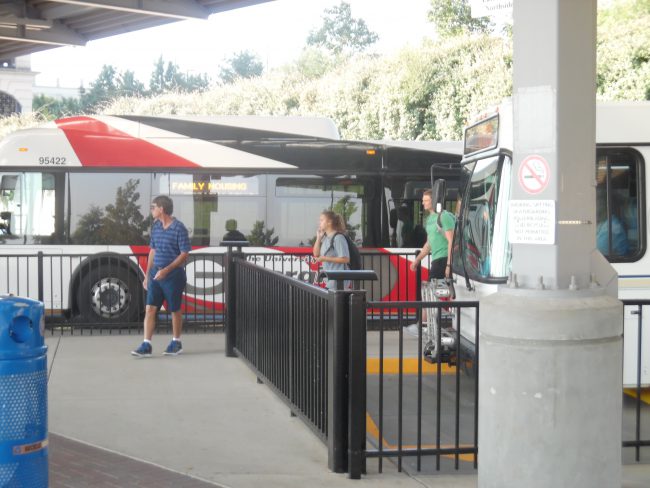 Athens, Georgia- Athens Transit's "Kids Ride Free" program has continued to thrive four months after its summer trial period—showing that economic benefits outweigh a loss in revenue.
The program, created by the Athens Youth Development task force, started as opportunity for youth [ages 5-17] to travel around the city in the summer.  On August 2, the initiative was extended throughout Athens-Clarke County's academic school year. Athens Transit Director Butch McDuffie said youth ridership is up 570 percent from August 2015 to August 2016.
"We went from an increase of 50 youth riders per day to an average of 350 youth riders per day," McDuffie said. "We know this program is being used and rides are being taken."
Athens Youth Freely Catching the Bus
With school back in session, Athens youth are using the bus more frequently. In September, the youth accounted for 8,760 Athens Transit riders. This number increased in October, as 11,703 youth riders took the bus.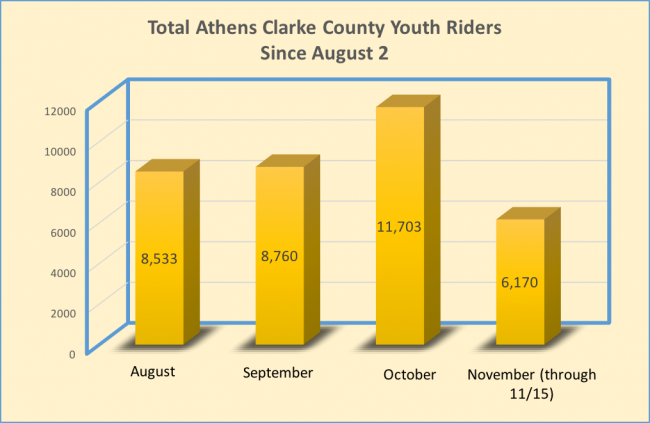 The most popular routes are the Georgia Square Mall [Route 20] and the Lexington Road/Cedar Shoals [Route 25] routes. Both routes had 1,495 and 1,110 youth riders in August and include destinations like Cedar Shoals High School and the shopping mall as a popular hangout.
Quafabian McBride, a 13-year-old student at Ombudsman alternative school, has taken advantage of the program. He uses the transit system to get back and forth to school and to other locations around Athens. McBride said the program has been beneficial to his mother, as she doesn't have to worry about paying a daily bus fare.
"She can pay bills better as she doesn't have to give me money," McBride said. "I can ride the 27 [bus route] and the 6. I can also ride the 5 and the 20."
Costs looming?
However, the program has created a significant cost for Athens Transit. McDuffie estimated that the program generated a reduction in revenue. He said that Athens Transit lost $40,000 dollars in farebox revenues, which is a portion of Athens Transit's overall $7 million budget.
The total farebox revenues constitute 30 percent of the budget. The monetary loss equals about 26,000 youth rides [based on 2015 numbers] that Athens Transit is handing out for free. Yet, Athens Commissioner Allison Wright feels the benefits outweigh the costs. Wright hopes to make up the difference throughout the year.
"I think they found that there are pockets in our community that don't really have anything to offer and once kids get home—they're kind of stuck [in their environment]," Wright said. "We voted to have it [Kids Ride Free] for this year and we will be collecting information about it as well."
McDuffie understands the cost concerns but said the program serves a bigger purpose. The purpose is to improve the community by boosting youth productivity and easing family financial burdens.
"We are helping the community and folks that use public transportation," McDuffie said. "We also are building our ridership base through this program. This will make a difference in our revenues in the future."
Ridership Makes Impact
Some residents are in favor of the new initiative and its financial benefits. Athens resident Montraz Mize said it helps him take care of his grandkids. He usually takes the bus system five days a week and the "Kids Ride Free" program helps him treat his family to different activities.
"It saves me about 50 dollars a week," Mize said. "If you count my seven grandkids and my daughter, that would be about $1.75 each—so this is pretty good."
Mize hopes the program can continue in the future. According to Commissioner Wright, the initiative has a chance to expand further in the upcoming years.
"We want kids to be where they want to be," Wright said. "If they are just getting on the bus to go home because no one is there to pick them up from after school activities, tutoring or sports, they can't stay– if we have more buses, we could work in shifts."
Athens Transit will continue monitoring the program throughout the year. McDuffie said the next step is to create more youth prosperity via the transit system.