Downtown Hotel in LaGrange, GA Sets the Stage for Sweetland Success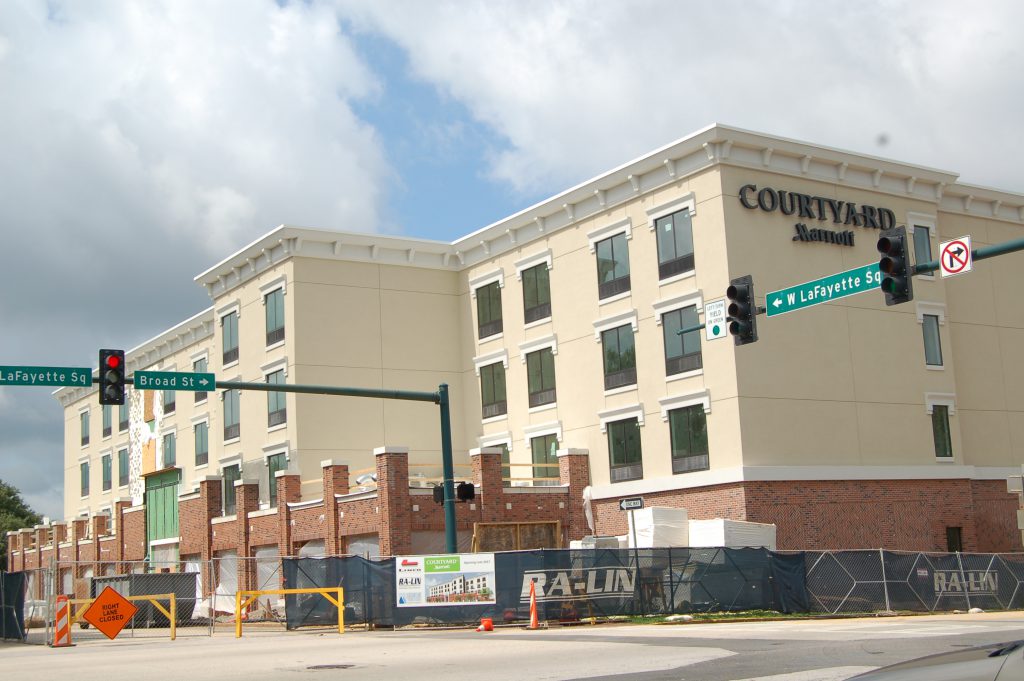 LAGRANGE, GEORGIA – Construction is nearing the end on the $2.7 million Courtyard Marriott Hotel in downtown LaGrange, GA and is expected to open late fall of 2017.
The addition of this hotel will boost Hotel/Motel tax revenues to an estimated $175,000 each year, according to city officials. These tax dollars, which is a five percent charge on hotel stays, go towards several city projects but were especially instrumental in the startup of Sweetland Ampitheatre, a project of the Downtown LaGrange Development Authority (DLDA).
"The Courtyard Marriott will generate about $60,000 a year in additional Hotel/Motel tax based on a projection of about a 58% occupancy rate," Dave Marler, Vice President of Tourism for the LaGrange Troup County Chamber of Commerce said.
Sweetland Ampitheatre will continue to benefit from Hotel/Motel tax dollars now that the Courtyard Marriott will offer 90 rooms and be the only hotel in the downtown area and also within walking distance to the ampitheatre. City officials have made Sweetland a priority to receive funds from these tax dollars for additional upgrades, due to its overwhelming success, according to the DLDA since its opening two years ago, featuring artists such as Willie Nelson, the Beach Boys, and Vince Gill.
       Construction workers put the final touches on the exterior of the Courtyard Marriott in                                                                downtown LaGrange, GA on July 6th, 2017 (Photo/ Mary Margaret Rogers, mmr9994@uga.edu).
Hotel chosen as best option, according to DLDA President
The hotel project began after the city of LaGrange purchased the former Mansour's department store property on the south side of the town square in 2010 for $1.2 million and deeded it to the DLDA. After several delays due to financing and an environmental impact study that showed the building needed asbestos removal, Paramount Acquisitions, a Carrollton-based company was finally able to break ground in fall of 2016.
Click the link below to listen and learn more about the decision of the hotel and its projected impact on the community.
There were several options for the Mansour's location including an apartment complex, but city officials and DLDA ultimately decided that a hotel would be the best option.
"What you want to do downtown is create activity and density," Bobby Carmichael, President of the DLDA, said. "Putting a hotel there brings new people into town…you've got about 55 to 60 new people downtown, on the streets, going to restaurants everyday," Carmichael said.
Additional amenities the hotel will offer include a bar and restaurant, a pool, a fitness room, and a 200-car parking deck that will be open to guests as well as the public.