UGA Students Expand Their Worldviews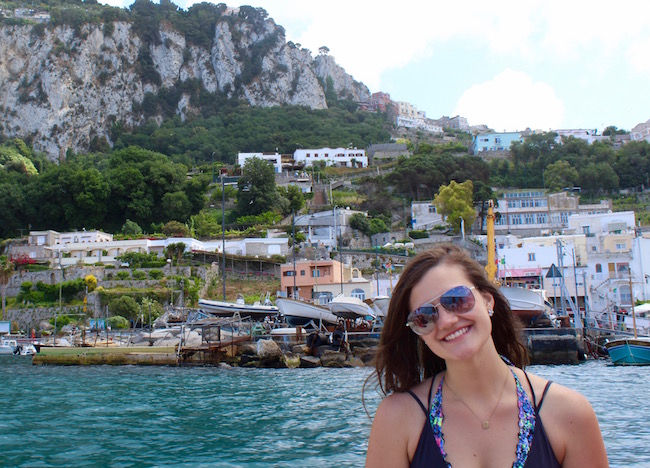 ATHENS, GEORGIA – Over 2,000 students profit each year by participating in the University of Georgia's study abroad programs provided for them to study, research or intern in almost 60 countries.
Students have the opportunity to expand their worldviews through experiential learning prior to graduation by participating in programs offered by UGA's Office of International Education. Over 75% of students choose to participate in short-term programs, and most decide to travel to European countries.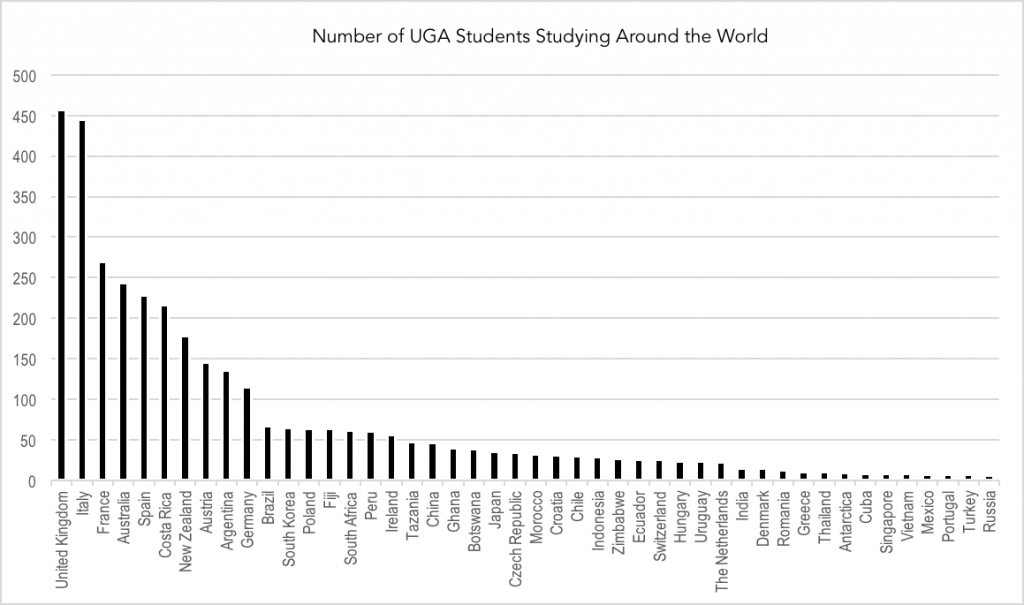 The graph above shows the number of UGA students participating in studying around the world. (Data from the UGA Office of International Education Global Gateway)
"Definitely one of the greatest experiences that I have ever had of my entire life," said Thomas Kizzar, a participant of the 2017 Cortona Science Maymester program, which is a discussion based biology in medicine seminar covering antibiotic resistance and cancer combined with an on-site art history course. "It was really cool to be part of the cream-of-the-crop of the science world at UGA."
Click the link below to listen to students explain about their UGA Study Abroad experiences.
An experiential learning requirement has recently been implemented at UGA. It indicates that all 27,000 undergraduate students must participate in experiential learning such as an internship, research, service-learning, study abroad or hands-on-learning before graduation. The hope is that students find connections, make discoveries, impact communities and expand their horizons as they unite educational foundations and professional objectives.
Abby Temple, another 2017 Cortona Science Maymester program participant, explained that  scholarships are available to help students fund their trips, such as the one she found through the College of Experiential Learning.
"I had to fund the entire trip myself, so I applied for scholarships and was able to fund the trip through that. […] It was one essay about what I was doing and it asked for a budget breakdown," Abby commented.
Some students regret not making study abroad a priority.
"This is the time in your life that you should do it [go abroad]. Make it [college] worth your while. Live every minute of it 'cause it's the best time of your life," Jolie Meyen said.
In addition to traditional methods of studying abroad, the University of Georgia provides access to all seven continents through Discover Abroad. The professors use a multidisciplinary approach encompassing social, cultural, historical and political contexts to provide programs that challenge students to develop an understanding of the universal nature of human-environment interactions according to UGA's Discover Abroad program.
Study abroad programs can affect communities, not just students. Mary Austin Hacker, who participated in the 2017 Peru Medical Spanish program, explained that she was able to assist hundreds of women in Peru through UGA's partnership with Cervi Cusco, an organization which goes to villages surrounding Cusco and administers HPV vaccines.
To see some experiences of UGA students, watch the video below.
By Hallie Smith
SaveSave
SaveSave
SaveSave
SaveSave
SaveSave
SaveSave
SaveSave
SaveSave
SaveSave
SaveSave