UGA Olympic Swimmers Believe Balance is Key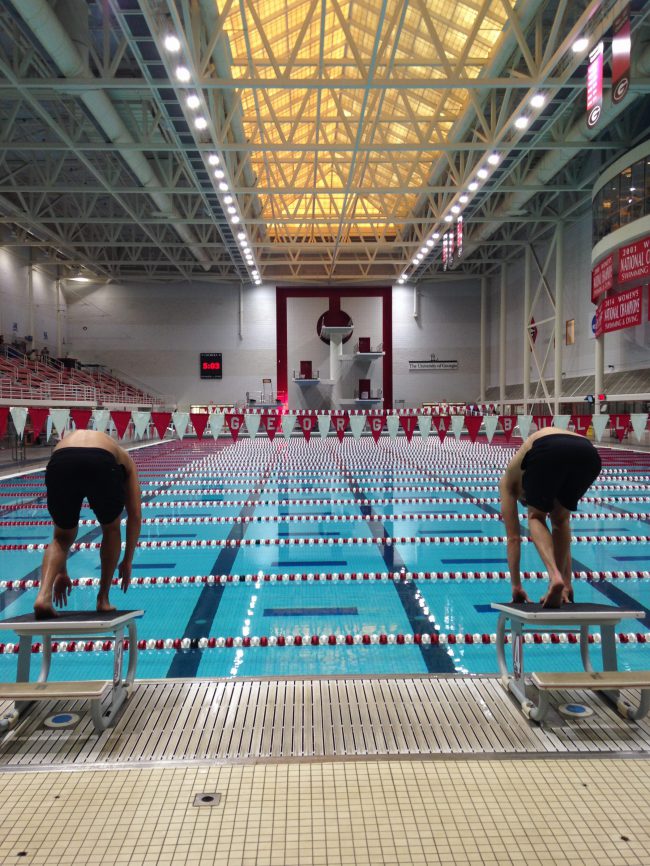 Athens, Georgia – University of Georgia (UGA) Olympic gold medalists agreed that a structured swimming schedule and disciplined academic routine are imperative to success in both areas.
UGA was represented by 28 current, former and soon-to-be athletes, associated with the University, to the 31st Olympic games held in August 2016, in Rio de Janeiro. Out of the 13 swimmers from UGA present at the games, nine brought home medals, four of which were gold.
Jay Litherland, finalist in the 400 individual medley, and Gunnar Bentz, gold medalist in the 4×100 freestyle relay, both concurred that the discipline provided by their weekly swimming routine has been extremely beneficial for their academic success.
"Jack always says, 'If you're doing well in the classroom, then you're going to do well in the pool,'" Bentz mentioned about Georgia head coach Jack Bauerle.
A study by the Journal of Intercollegiate Sports, a semiannual journal produced by Human Kinetic Inc. that provides a forum for research specifically addressing sports in college settings, found that students do better in-season as opposed to out-of-season, specifically regarding GPA and credit hours. The structured nature of the playing season leads to more structure in the athletes' academic lives, and in turn, a more promising academic performance.
Both Litherland and Bentz agreed that success in each area go hand-in-hand and that being pushed in ways other than swimming helps you in the long run. Bentz also preached that academics and athletics balance each other out, when you are determined and motivated to work hard in the classroom then it will always carry over into the pool. However, compromises always have to be made for the betterment of both fields.
"I was taking summer classes online, so I had to deal with the balance of training and school. While you're at the training camp it's hardcore constantly working with everyone. I definitely had to balance that out but it was pretty manageable," Litherland claimed.
A Different Olympic Experience
UGA senior Matias Koski attended both summer Olympic games in London, in 2012 and Rio, in 2016, as a representative of his home country Finland. 
Just graduating from Northview High School before the London games, Koski was the only member from Dynamo swim club in Alpharetta, Georgia, to qualify. He stated that the experience was more daunting because he was the only swimmer training with his then swim coach Rich Murphy. 
Koski agreed with the sentiments of Bentz and Litherland. He said that the structured schedule swimming provides has taught him punctuality, assertiveness, and accountability. Koski believes that the UGA Athletic Association plays a huge part in not only his, but every student athlete's academic success.
"The Athletic Association helps the student athletes tremendously in all aspects and in terms of tutors, getting class schedules done and any outside help. We're really lucky having all the available tools that they give us," Koski said. 
Jack Bauerle, UGA's head women's coach since 1979 and head men's coach since 1983, is also a veteran of the Olympic Games. Being the head swim coach of the women's swim team at the 2008 Beijing Summer Olympics and being the assistant coach of the women's swim team at the 2016 Rio Summer Olympics, Bauerle knows what it takes to be an Olympic team member.
After an unbelievably successful NCAA championship, with the UGA women's team placing first, the UGA men's team placing in the top five, and UGA placing second with a combined program, Bauerle wasted no time preparing for the Olympic Trials. Bauerle stated there was a sense of urgency in the spring before the games and that no training days would be wasted.
Bauerle believes it takes 100 percent dedication in the pool and outside the pool for Olympic success. Bauerle claimed the hardest thing was after the games, when the students have to assimilate themselves back into day to day life. During the Olympics, the athletes were living a different life where everything revolved around them.
"When we traveled, baggage was taken care of, housing was taken care of, and food was taken care of. We didn't have to worry about a thing, we just made sure to concentrate on swimming. Then it's back to reality. You have to go to class, you have to get good grades, and you have to pay bills if you live in an apartment. Welcome to the real world," Bauerle stated.
All three swimmers acknowledged that their grades have gotten a lot better since leaving high school and arriving at UGA. After having a life changing experience in Rio de Janeiro, Litherland, Koski and Bentz are currently training for Tokyo summer Olympic games in 2020 with Coach Bauerle by their side.